Beyond Common Sense - Tina Robinson, Intuitive Energy Healer
by Stacy Thomas | June 12, 2020
Tina Robinson's grandfather was a healer, and when she would visit him as a child she remembers meeting all the "nice people" who would come from all over the world just to see him. She never gave it that much thought, that was just what grandpa's house was like. Nor did she give a lot of thought to the fact that, as a young girl, she would come home from school and have "angel parties," where she would shut the door to her room, sit on the floor, and talk to the friends whom she didn't know couldn't be seen by everyone.
"I got most of my comfort and knowledge from my angels when I was a child," she says. "As a kid I didn't feel like I had any abilities, [and] I quickly went into [an emotional] closet when other kids couldn't see angels or spirits."
For years, Robinson didn't talk about her abilities. She didn't think twice about the way she could read people's energy, or that she would receive messages about them randomly. She never thought of herself as someone who could heal, or as anyone out of the ordinary. She went to university and got a degree in the sciences, and started a career in the pharmaceutical industry. Occasionally she would receive messages about people, but it was directionless, and she didn't think of it in terms of a practice. She would even occasionally receive information about someone sitting near her in a restaurant or somewhere else in public, and she would try to pass on those messages when she could.
"It would be more random or gentle advice I would give to somebody, but it was never anything that was focused, or what I thought of as having a purpose." This changed in 2008 when a sudden, mysterious infection had her rushed to the hospital where she had not one, but two near-death experiences in a 24 hour period. Those experiences changed everything for Robinson, and were what caused her to begin practicing energy healing two years later.
"It's really hard to explain that process," Robinson explains. "It's everything. [...] I began to really understand my calling in life, and that it was something that I really had to do, and I didn't really have a choice—in a good way, but also in a forceful way."
As often happens with people who have near-death experiences, there wasn't a sudden drastic change, but many subtle, intrinsic changes at the core level that happened incrementally over time––like realizing her purpose. This personal coming to terms isn't always an easy transition, and often causes strife within families as they watch their loved one evolve into a much different person.
"I didn't realize how much of an impact a near death experience could have until I started to notice little changes in myself," Robinson says. After doing some online research, she discovered that what was happening to her wasn't uncommon. It was a phenomenon.
Among other things, Robinson became calmer, more mindful, more intuitive, and wiser when she received the energetic messages she was privy to. "Before, I could give spirit messages to somebody, and it was purely empathic. Being able to read, and really know what someone was saying and thinking and feeling, that was with me since the beginning."
Robinson's experience showed her that she needed to pay more attention to her unusual skills. For years she had sidelined her abilities to focus on her career in pharmaceuticals. She needed to be able to support herself financially. Her near-death experience was the shakeup that was required in order for her to start taking her gifts seriously, and to start using them to help people, "I was too stubborn to see and understand––I was supposed to be using my gifts and abilities that I was born with to help––to serve others."
She didn't leave her career in pharmaceuticals behind completely, but Robinson did begin practicing intuitive energy healing out of her home in Mississauga on weekends and in the evenings. Intuitive energy healing, chakra balancing, medium reading, counseling for empathic people, and spiritual cleansing of physical spaces are some of the services she offers. She also counsels Highly Sensitive People (HSPs) and empaths, including children and their parents.
My ability is being able to connect and communicate with all forms of energy. Nature, nature's creatures, domesticated animals, living human beings, those in spirit, and higher realms of energy. If I'm asked a question, I just give the answer, I kind of hear the answer as I'm speaking, so I don't feel like I own it. It's more like, I have access to that intelligence.
Robinson believes that her near-death experience was a guiding light, showing her the way. The source of the infection that caused Robinson to become so sick was never discovered. Although she medically suffered from organ failure, heart attack and pneumonia during these episodes, she completely recovered afterwards, and sustained no organ damage or long-term effects–– "I believe that I was meant to have that, because the source was unknown. It's like I'm a whole different living being."
Since then, alongside beginning her practice as an energy healer, she has begun teaching group mindfulness classes, and has written a children's book called "Grandpa's Magical Forest." The book was inspired by the sensitive, empathic children she counsels in her practice, "The intention for me writing my book was because the only kids I see are those with heightened sensitivities. So I thought, how can I give back?"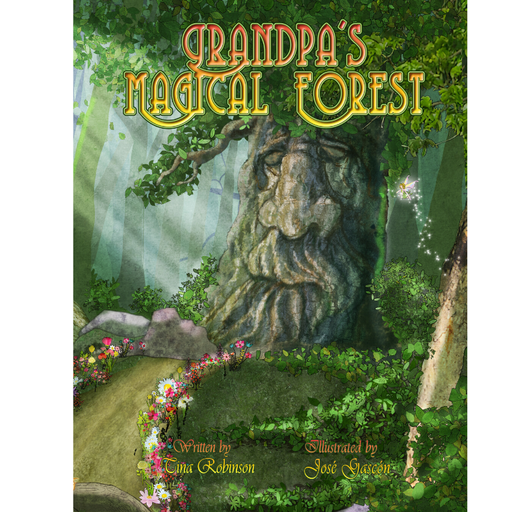 Robinson is grateful for her multiple near-death experiences because they showed her the way to a more purpose filled life––one that is more true to who she is. However, Robinson explains, a person doesn't need to go through what she went through in order to experience life-changing transitions and energetic healing, in fact, that message is the main purpose of her practice.
It's the process, really, of understanding one's truth––energetically. We're energy beings, we're not physical beings. So if we understand ourselves energetically, you can shift your life into an evolve, versus being stuck and attached in a human experience.